Before dawn I recalled a dream I had last night. I remembered my Father; and how hard he worked; every day with so little time to do the things he loved; he worked into his late 60's. And my Mum was endlessly doing 'housework' there was always something to do, she almost never stopped.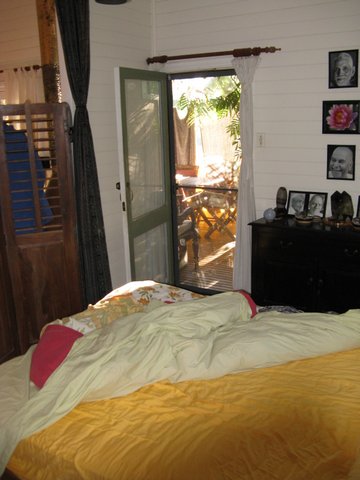 As dawn broke, and still in a half dream state, the dream turned into a fearful reflection and realization, that I was repeating my Fathers and Mothers life. I say this with love, respect and deep appreciation for my Mother and Father. 
My life has changed of recent time having just recovered from shingles and various other dents to my body. 
I have always been so particular of how I keep my home. Clean orderly beautiful and nurturing. The past few months I have had to let go of everything being up to a certain self imposed standard. I can see the fine line between neurotic obsesive habitual behaviour, and simply keeping my home beautiful in a relaxed way. 
I can see my tendency to turn my life into a stressful pre-occupation with work and all the other day to day demands and 'commitments" I avoid taking time for myself to stop and sit on the day bed and enjoy the beauty of nature that's all around me, 
It's now sunrise, and as the light streams into my bedroom and I look around, in the brightness of the morning light, spider webs and dust on the cupboard next to my bed is revealed and magnified. My tendency has always been to immediately remedy what I see as an 'uacceptable situation'. 
Instead I walked out onto the verandha and sat on the day bed in the new morning light; feeling the warmth on my face, that magnified and revealed the stillness and peace that's here when I stop 'doing' 
I can see that this precious life is short; and it gives me the opportunity to see what's important. 
In the light of day I can see all that has to be done, and I can also see the need to stop and rest in the underlying beauty that's always here. 
Long after I am gone; the dust will remain.                                         
Kunda Music - www.kundamusic.com