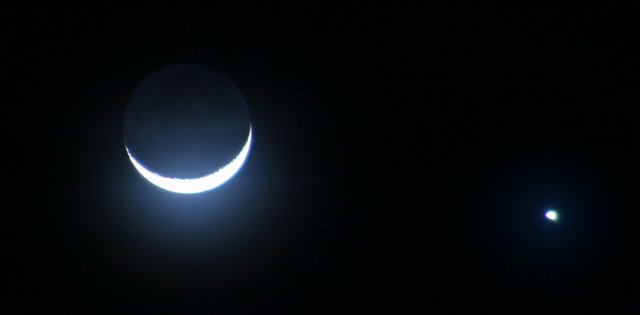 Image ~ http://lunarnetworks.blogspot.com.au/2009/02/new-moon-slips-past-venus.html
It's 4.30 in the morning and I have been lying awake in bed for the past 2 hours thinking about work, and things that somehow disturb and upset me, I can't let it go. 
I've just dressed, and I am now out on the veranda overlooking the lagoon. It's dark, fresh, still and alive. It's so silent and there's a background of frogs croaking and the occasional call of a cuckoo bird. There's splashing from the ducks in the darkness, followed by some quacking, and the sound of a rooster in the distance. 
This underlying peace and silence embraces and encompasses everything, the sounds rather than being a distraction from the silence, is part of this exquisite perfect beauty. 
The moon and Venus are magnetic, everything so silent and perfect. I feel calm relaxed and at peace, my mind has let go of the endless worries that tormented me while I was lying in bed; this beauty has embraced me in the most natural and gentle way. 
The new moon is on the horizon, a thin shining sliver; and the yellowy opaque outline of the whole moon, is reflecting on the still water of the lagoon. Venus is mesmerizing, alone, still and so bright in the clear night sky. Venus and the moon seem to be working together to reflect a beauty that's beyond words. 
The lagoon is still, mirroring the moon, a perfect reflection of itself. And looking out everything I see, in the most natural and beautiful way; is a perfect reflection of myself, a rare blessing to feel this as the darkness retreats in the soft light of a new day dawning.
KUNDA MUSIC ~ https://kundamusic.com/home